COVID-19 Update
Reopening June 1, 2020 Please use the contact form on the website to reserve your spot today!
Tactical Taekwondo Return To Class Rules
All students must have a reserved spot in class.

Tykes: Can choose from either M/W 4:45-5:15 or T/Th 5:45-6:15

Juniors: Can choose from either M/W 5:30-6:15 or T/Th 4:45-5:30

Black belt and black stripe: T/Th 6:30-7:30

Comp Class: M/W 6:30- 7:30

Adults: T/Th 7:45-8:45pm

All students must come changed and ready for class. The changerooms will remain LOCKED

All students are encouraged to use the washroom before they come. Washrooms will stay accessible when needed.

All students must bring water bottles with their name on it, and they must fill these at home before they come

Students will be asked if they have any symptoms before class- if they say they do, or if the staff perceives they are ill in any way, students will not be allowed to participate in class.

Students will be dropped off at the BACK door and must wait outside (maintaining a 6ft (2m) distance from other students until they are invited in. They will be invited in one at a time. Students will be given hand sanitizer and then directed to a specific area of the mats which will be theirs for the duration of the class.

Students will be dismissed one at a time out the FRONT door. Parents are expected to pick them up from that entrance. There will be no outside supervision and we ask parents to be prompt with pick up times.

There will be NO SPECTATORS ALLOWED in the building at this time.

There will be NO CONTACT OF ANY KIND REGARDLESS OF AGE OR CLASS.

Students are requested not to yell.

We are not requiring masks- masks are ineffective when wet. Should you/your child wish to use a mask, this is your choice and we respect this choice.

Students are required to adhere to markings on the floors/ walls to maintain distance.

Class sizes will not exceed 16 students. (Based on space and the Government of Manitoba we could have up to 25 students but in order to ensure more space we are capping classes and summer camps to 16)
Tactical Taekwondo Covid 19 Safety Protocols:
The mats will be disinfected daily. They will also be disinfected each time a student touches the mats with their hands or if there are droplets that fall on the floor. No activities will require students to touch the floor.

There will be no hand held targets used. Period.

All equipment which is used will be disinfected between students by a staff member using gloves and approved disinfectant.

All surfaces will be cleaned between classes.

Washrooms will be fully cleaned between each class.

As we have ALWAYS done, door handles and ledges will be cleaned at a minimum daily, but also immediately after they are touched.

All seating has been removed from the gym

Staff will not wear masks unless they choose too, but will also maintain a 6 ft (2m) distance from all students.

There are markings on the floor, training area and along the walls so students maintain physical distancing.

Staff will complete a government approved health assessment daily before coming to work.

All hands (staff and students) will be disinfected when entering the building, when entering the training floor and after using the washroom)

There will be disposable paper towels only in the washroom.

All payments must be done by e-transfer.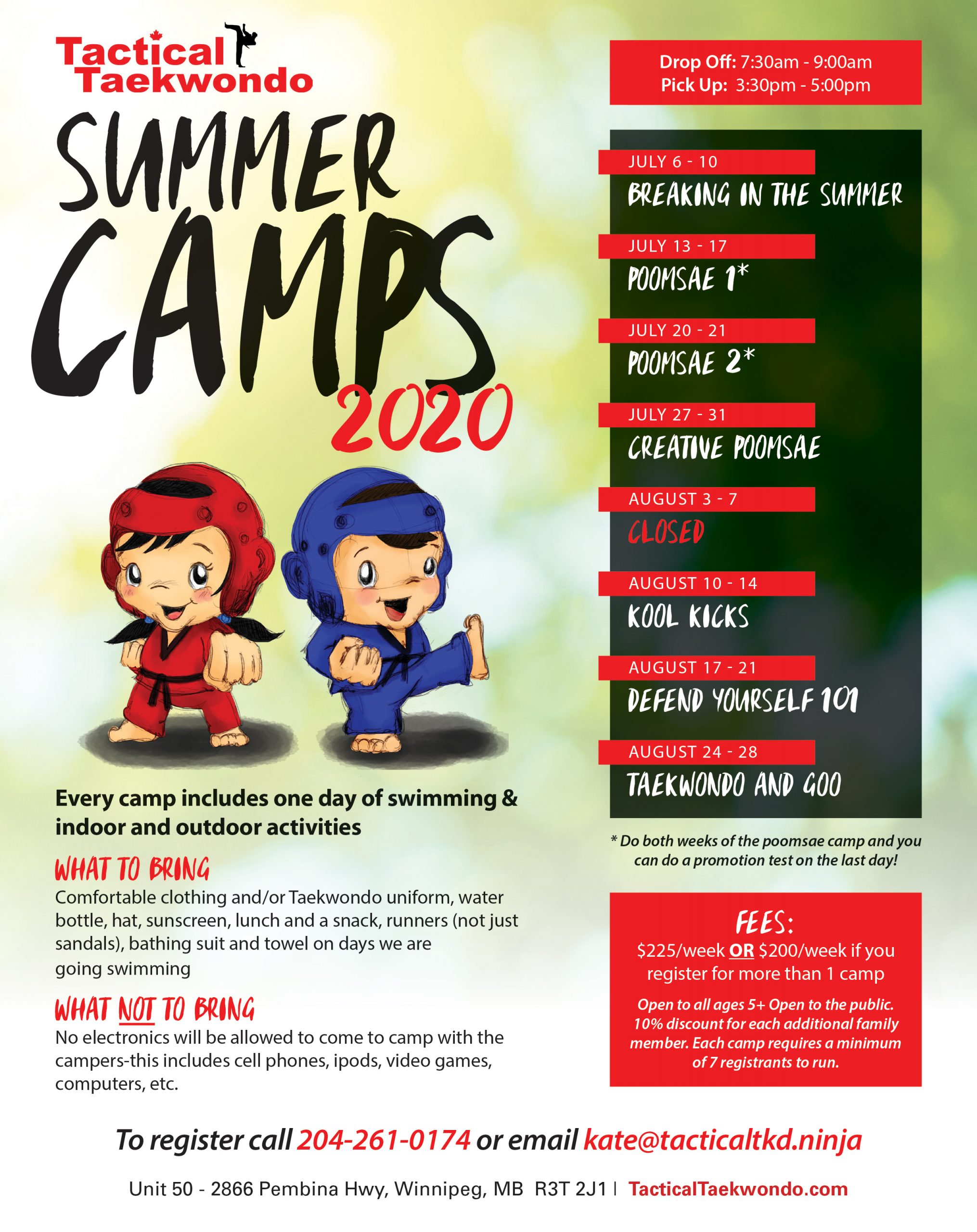 Tactical Taekwondo Winnipeg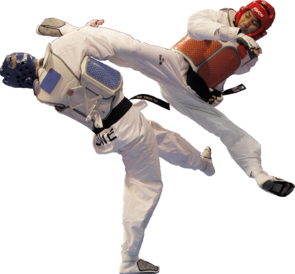 Tactical Taekwondo school is Manitoba's premier WTF Taekwondo school featuring both traditional Martial Arts (Korean Karate) and Olympic Taekwondo. If you are looking to learn competitive Tae kwon do, street self-defense or just to improve your fitness level in Winnipeg, Manitoba, call Tactical Taekwondo at 261-0174 to register for your 2 FREE INTRODUCTORY class. Our program has improved self-esteem, self-confidence and self discipline. Tactical Taekwondo offers classes 5 days per week, (not 2) so your child will progress faster.
Tactical Taekwondo in Winnipeg guarantees multiple instructors on the floor each day to provide all students with small group instruction. Instructors are internationally certified black belts by the World Taekwondo Federation.
Get in the best shape of your life, at Tactical Taekwondo school in Winnipeg!  Increase your fitness level with our fitness cross kick adult class. Learn real punching and kicking techniques without the bloody nose. It's safe, great for weight loss, cross training, conditioning and character development.